I didn't listen to any news yesterday, at least not on purpose. I was listening to our local NPR station around dinner time however. As I've explained before I listen because of the local host, an apolitical music impresario who plays a delightful mix of different genres. Take yesterday for example, he played a country tune by Shemekia Copeland (Johnny's daughter), who normally sticks to wailing out a mean blues. The song was called "Out of Nashville" and contained some snappy lyrics:
"I'm driving out of Nashville with a body in the trunk,

Trying to figure out the depths to which I've sunk.

I never hit the big time, but I went out with a bang,

'Cos country music ain't nothing but the blues with a twang".
But in exchange for that little musical gem I had to suffer through their BBC "news" at the top of the hour. It was worse than usual, which is saying something. I know that NPR's audience presumes that people with a British accent are wiser and more sophisticated than the normal American but I cannot fathom why they seriously think the Brits' take on American politics adds anything. Except yesterday it did: a bit of amusement. It was not the usual Brit twit but rather a new guy that would easily have won the Monty Python casting call for a supercilious British news reader. He advised us deplorables that "Hillary Clinton endorsed Joe Biden today, saying that 'America deserved better than someone who played President on TV'" in that cute, clipped, upper-class English accent.
So I moved on to thoughts of dinner, and the Sirius Sinatra channel.
This would be a much better post had I thought to take pictures as I was cooking, or even if I had remembered to take a picture of the final dish – which I also didn't do. I wouldn't have been a very good food blogger as when I get into the creative space of cooking I don't think of anything else. Which is what any good hobby should do for you.
I started by taking inventory. This is what I picked up from the Copper Moose Farm earlier, which is a small scale farm just down the road a piece. Within walking distance even for a couple of old farts with bad knees. All they had for sale this week were eggs
As beautiful as anything Martha Stewart's chickens could lay
and radishes. Perfect for me, I love their eggs and I'm a radish fiend of sorts. And these were gorgeous radishes.
Look at those greens! The radishes are reserved for peanut butter and radish sandwiches. But the greens were so fresh, so pristine I decided to build a pasta around them: penne with white beans and greens, a standard. Normally I use spinach, chard or, my favorite, escarole but these looked like a great stand in.
Very simple to make:
Cooke a half box of penne. Meanwhile sauté about a half cup of chopped onion for 2-3 minutes in olive oil until transparent, add 1 or 2 cloves of minced garlic and a generous pinch of red peppers, stir for 30 seconds (don't let the garlic burn, it will ruin your dish!) Throw in your clean, dried radish tops and stir just till slightly wilted. Add 1/2 can of white beans drained (I like great northern but navy or cannellini will do), a splash of white wine or lemon juice and either a peeled, cubed fresh tomato or – if you happen to have a half can of diced tomatoes left over in the frig like I did, drain and add them. Save a 1/4 cup of water from your cooked penne, drain the rest and add it to sauce in your pan. add the water toss, finish with a small handful of chopped basil and a few fresh chives if you are lucky enough to have them growing on your windowsill and/or garden. Otherwise a handful of chopped parsley will do fine. Stir and serve with another generous drizzle of olive oil and grated parmesan.
Sorry I don't have a picture but it was delicious and looked pretty much like this except my tomatoes were diced: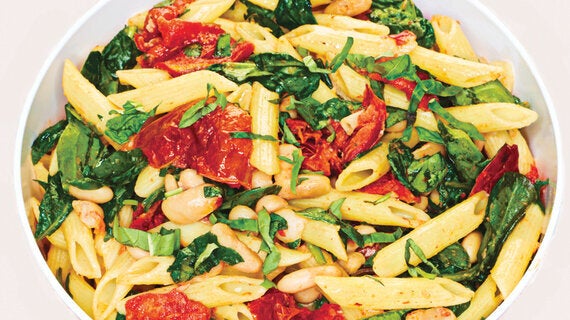 I'll have farm fresh eggs for breakfast and the leftovers are going on a picnic within the quarantine zone today.
What's going on in your kitchen?