"Why brave the crowds when you can shop at the Obama 2012 store in your pajamas?"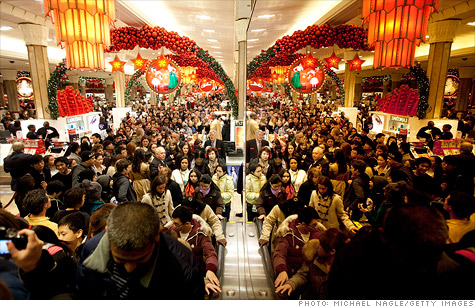 Reflecting Black Friday shoppers at Macy's
In a move intended to demonstrate his continuing commitment to spreading the wealth around, Big Guy authorized his team to hold the first ever official Presidential Black Friday sale – apparently without irony.
A 10% TURKEY DAY special code? Seriously, I'm beginning to think these guys don't even understand the meaning of the word "irony."
The official campaign site is so tone deaf it's making it harder and harder to tell the difference between the official "Obama gear" site
The Obama "I liked the spatula so much, I bought the company" ($40)
and all the bogus sites that are selling contraband campaign gear.
"Help support President Obama's initiative to reduce the national debt by purchasing all of your officially authorized Obama products here." Where everything is Made in America (except for the shirt, slippers, sunglasses, and hat). Plus - no sales tax! – no wait, that's only available from the bogus site. 
And who on your Winter Holiday list wouldn't luv to find an official Obama birth certificate coffee mug  ($20, from the real site – do you see how confusing this is?) under their tree?
…and speaking of trees:
Check out the trunk on the official 2011 model! It's huge!!
Just perfect to festoon with multi-colored baubles. The Big White will never look the same again.
Yes, it's going to be another glorious Winter Holiday season around here. We Can't Wait!
Available now, at an Obama shopping site near you. Actually I think you can get these at both the official and the unofficial sites.
Can you hear the jingle bells yet?
Linked By: Larwyn's Linx on Doug Ross@Journal, and DeniceVB on the Crawdad Hole, Thanks!