Uh oh! China's a little ticked at Big Guy for announcing he's going to station 2500 Marines in Australia. Sheeze. I think they're just looking for a fight. 2500. In Australia. And China's got like, what, 25 gazillion soldiers? And that's not even counting the terra cotta ones?
Hardly seems worth scratching that tick.
Premier Wen was reportedly "grouchy" when he met with Big Guy. Butt if you think Wen was grouchy, you should have seen Big Guy who just quit smoking in time for the great American smokeout ad and his annual medical exam. He still needs his daily vitamin N dosage however, and was running a little low because he was forced to remove his Nicorette before meeting with the Premier. You know how Asians are about gum chewing – although no longer a capital offense, it's still frowned upon in certain quarters.
Don't stick that gum under your chair – the chewing gum police do not approve.
After mixing things up a bit with Julia in South East Asia to keep our enemies off guard,
Big Guy arrived back in Washington in time to pardon a turkey, bake one, and devour another. We're still taking odds on which is which.
Anyway, it looks like Lady M has decided to skip Joey B's birthday celebration today after all; she heard they were only serving white cake. Not her fave. Butt she did send a thoughtful, and useful gift that may come in handy for thin-skinned Joe during the upcoming campaign. I'm not sure if it's elephant or rhinoceros, butt either way he can use it either as a shield or a valise to pack up his hurt feelings and therefore not feel compelled to lash out at reporters who dare question his veracity. Normally that's ok, butt not when we're trying to get reelected.
Happy Birthday Joey. You can stuff it all in here.
Since I'm not going to be needed today, I think I'll run over to see the new "First Ladies" display at the Smithsonian.
It will be a little nostalgic for me because, as you may recall, the Smithsonian is where I started my career. And while I found it a bit boring at the time, I was young and foolish then. There has been many a day lately that I've longed for those simpler days of reflecting images of America's greatness back at an appreciative audience. I'm not going to get all sentimental on you. I have a mission and I will complete it, butt taking a walk down memory lane might be just what I need today to give myself a little boost. Some reflections on what seemed like a more sane and civilized time in America.
I'll reflect, you decide:
Lady M, you know, wasn't the first fashion plate in the Big White. While nowhere near as toned as Lady M, Mary Lincoln was a bit of fashion shopaholic too, once purchasing 400 pair of gloves in a few months time! (OCD, no doubt brought on by hanging around such a gloomy man).
Nor did Lady M really invent FLOTUS bare arms. In fact Frances Folsom Cleveland was chastised by the Women's Temperance Union who was alarmed over her penchant for baring her shoulders.
Franny: a bit of a tart in her day
And then we have Grace Coolidge: woo hoo! Quite the little vamp in her burnt orange velvet flapper gown and other sleeveless frocks.
Then there was Florence Harding's ethereal inaugural gown, seemingly made of gossamer:
and even Mamie Eisenhower was a bit risqué, in a prim and proper way: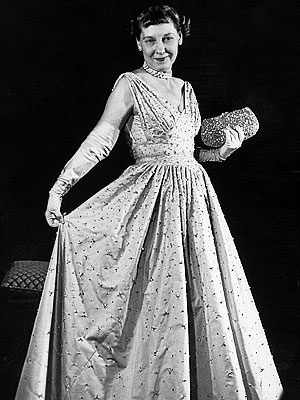 Nor was Lady M's stunning Jason Wu the first one-shouldered FLOTUS gown to be worn either. That distinction belongs to the original Jackie O:
While not an inaugural gown Jackie's exquisite Oleg Cassini sari-inspired gown was worn at the first Kennedy administration state dinner in 1961. My, that was a long time ago wasn't it?
Then  there was the famous one shouldered Nancy Reagan gown:
In between we had RosaLynn Carter's gown that was recycled from Jimmy's Georgia Governor's inaugural It was worn, with a new tapestry coat, to kick off the first Carter administration.
I don't know why, but it always reminds me of a Middle Eastern caftan for some reason.
Really, so many more: Lady Bird, Pat, Barbara, Hillary, Laura
All lovely in their own right, butt how many of them ever had even one real life-like action figure made out of any of their gowns? Let alone three.
Just a reminder: Christmas Winter Holiday is coming! Order yours soon before supplies and interest runs out.
Ok. There was a Jackie accessory kit for dolls. Butt no action figure.