I know it's FLOTUS Friday but I checked all the newsfeeds and the only coverage the MSM deemed newsworthy about our First Lady was this story. It's about Ilhan Omar been a U.S. citizen for 6 years longer than Melania Trump. This provided the opportunity to rerun the "Donald Trump made racist comments about the Squad!" outrage story again, thus checking off a lot of boxes in the "newsworthy" category.
I guess Ilhan's seniority in the citizen department qualifies her to make anti-American and anti-Semitic comments with impunity.
A Tale of Two Immigrants: one loves her adopted country and the other wants to destroy our Constitutional Republic, which she hates. Guess which one the media loves to cover.
This week, following a stopover in Italy for a little fine dining, Ilhan is visiting "Mother Africa" – her words, not mine, compliments of the hateful American taxpayer:
They said "send her back" but Speaker @SpeakerPelosi didn't just make arrangements to send me back, she went back with me ✊

So grateful for the honor to return to Mother Africa with the @TheBlackCaucus and commemorate The Year of Return! #Doorofreturn #Ghana pic.twitter.com/0yVBLcAEs5

— Ilhan Omar (@IlhanMN) August 1, 2019
Meanwhile PDJT was in Cincinnati, trying to Keep America Great. He played to a an overflow crowd
while Democrats held their own news conference at Cincinnati's Smale Riverfront Park ahead of the Trump Rally.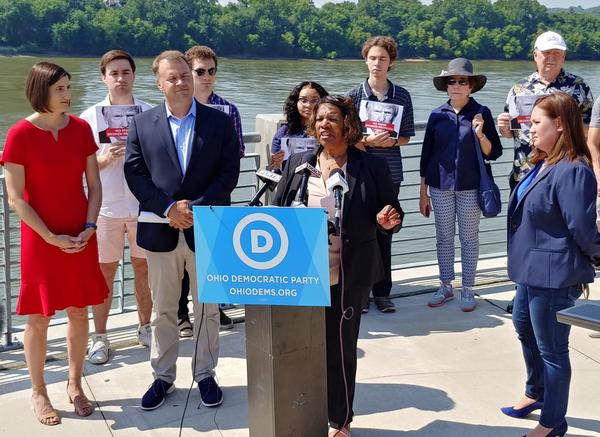 Attendance was 'Smale' but don't worry, we're told size doesn't matter.
Full house at Cincinnati's US Bank Arena
Right. Ask Hillary how that turned out for her.