It's time once again to reminisce about the days of Christmas Past when shopping entailed a trip downtown to visit the Five and Dimes and your local department stores. From the heyday of downtowns we transitioned first to the era of suburban malls, enclosed meccas of commerce featuring anchor stores, hot pretzels, cheap boutiques and endless parking lots. That vignette too has morphed into Christmas Past as once great malls have become wastelands of obsolescence. By and large they now sit empty awaiting a rebirth.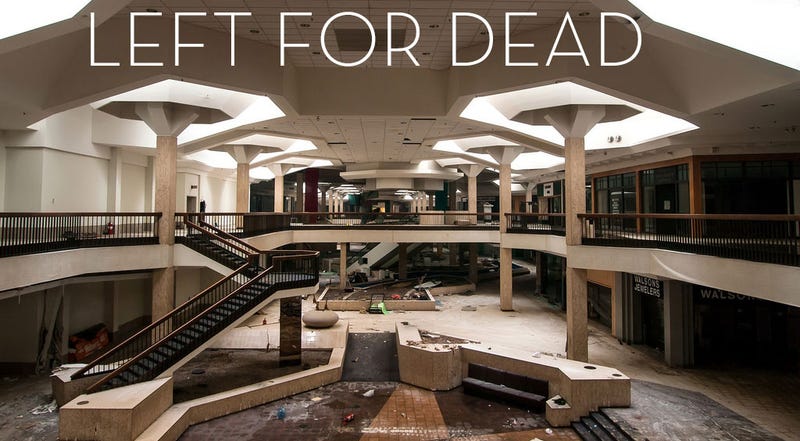 Somewhere along the line the wizards of marketing decided that people really wanted to be exposed to the winter elements as they did their Christmas shopping. Accordingly commerce complexes moved to even more suburban settings involving an endless collection of Big Box stores congregated around busy intersections, an infinite number of fast food outlets and even more expansive parking lots. This configuration remains a part of the Christmas Present shopping experience but the Big Box era is approaching its own sell-by-date as more and more of the brick and mortars fall by the wayside.
People are quickly migrating to the convenience of a new Christmas Present model: shopping online and having the  Amazon elves deliver your Christmas gifts right to the front door.
I'm guessing Christmas Future will bring something even more akin to virtual reality where money changes hands but the physical aspects of selecting, wrapping and delivering of actual gifts will be replaced by an email notice and a computer generated image of things your friends and family imagine you'd like.
So enjoy your actual shopping days before Christmas while you still can: soon enough they'll become just one more cultural anachronism.
ORIGINALLY POSTED DECEMBER 15, 2018 
When I was growing up  every town had at least one iconic department store that did Christmas right: fabulous back-lit and magical Christmas displays, often animated, gracing all of their street level windows. In a time before kids were so wired into their iPhones and "social" networks that they missed much of the amazement of the real world, there were all these fabulous windows of mystery and wonder, free for the taking. All it took was a dime bus ride downtown. 

I was very lucky as my hometown, Grand Rapids, MI, had three such emporiums of merchandise, all founded in the late 1800's:

All now long gone. One of them, Herpolsheimer's,  however lives on as it has been memorialized in the film version of Chris Van Allsburg's book The Polar Express.

The old Herp's, as the locals called it, had what was called  the "Santa Express" – a monorail that ran around the entire basement level of the store during the Christmas season to keep kids occupied as mom and dad shopped.

Santa's Rocket Express, Herpolsheimer's 1949

It is said to have served as the inspiration for Van Allsburg's  popular book.

The old Herpolsheimer's building,

Print found on Pinterest but tracked down to ArleneFaye

which once housed the inspirational train and window wonders currently houses the Grand Rapids Police Department. Not that there's anything wrong with that, but you probably wouldn't want to take your kids there for a festive Christmas pot pie lunch in their tea room.

And don't even get me started on the "dime" stores, of which Grand Rapids also enjoyed three:

Print found on Pinterest but tracked down to ArleneFaye

Woolworths, above, at the foot of Monroe, Grants, right next door, and Kresge's just up a block to the east.

Print found on Pinterest but tracked down to ArleneFaye

Also all gone.

What about your town's locally owned iconic department stores? Do any of them still exist? Are any of them still in the downtown area? Or is your downtown comprised of restaurants, bars and clubs these days? Just wondering.