Here we are – Fat Tuesday, Carnevale, Shrove Tuesday. The final debauchery prior to the Lenten season of penitence and prayer, mortifying the flesh, repentance of sins and almsgiving. So…laissez les bon temps rouler!
Back in the day we'd always celebrate at Fishbones Rhythm Kitchen in downtown Detroit where they had the best catfish beignets, oysters Rockefeller, crayfish étouffée and Jambalaya this side of New Orleans.
And one year we actually went to New Orleans for the last few days of Mardi Gras, it was crazy and fun and exhausting. It's the sort of thing you should only do once and even then only when young. So today we plan a much more laid back celebration; we're going to go play in the snow for awhile. Then there's some of Raj's world famous gumbo – chicken, shrimp and andouille - in the freezer for dinner. And since Raj wanted a King Cake but forgot to order one, we decided to make a cheater version. Truth be told I'm not all that fond of King Cakes, even the good ones, so I find this easy-peasy version quite appealing, if not entirely authentic.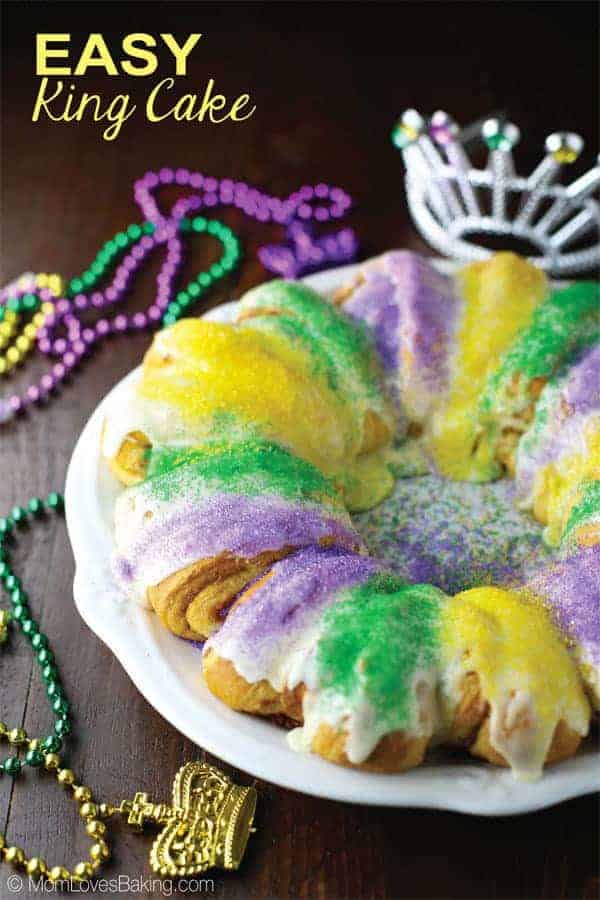 Easy King Cake  - from Mom Loves Baking
Ingredients
2 cans store-bought cinnamon rolls I used Pillsbury Flaky Cinnamon Rolls with Butter Cream Icing
Yellow green and purple sugar
1 plastic toy baby if desired
Instructions
Preheat oven to 375°F.
Place cinnamon rolls sideways on a large cookie sheet that has been greased or lined with a silicone mat. Arrange cinnamon rolls in a circular pattern. It should look like a flower when you're done. Press down on cinnamon rolls with your hand to flatten them slightly.
Bake according to package instructions. Let cool.
Frost with the buttercream that comes with the cinnamon rolls. Add yellow, green and purple sugar. Serve immediately or store covered for up to 24 hours at room temperature. It is best when eaten the first day.
I don't have a Bundt pan or I would modify the assembly per this Cinnamon Roll King Cake version that uses extra butter and brown sugar. I do think I'll add a bit of cream cheese to the pre-made frosting though.
So no paczki (poonch-kee or punch-kee, depending on where you hail from) this year.
We'll be indulging ourselves instead with the likes of a yellow, green and purple King Cake imposter.
While I'm out and about today I'll be wearing my Cajun/Acadian flag pin that Cajun2 was kind enough to send me a couple of years ago.
As I understand the flag's symbols, the gold castle on the red field represents the Spanish kingdom, who  assisted the Acadians in settling their new homeland.  The silver fleur-de-lis on the blue field represents the Cajuns' French heritage. And the gold star on the white background represents the Virgin Mary, patron saint of the Acadians. It seems a fine heritage and proud flag, I will wear it with pride and hope that I run into at least one other person who recognizes it. It only happened once before and it was very cool, like being a member of a secret society with a special handshake.
Anyway, that's about it from casa MOTUS this fine Fat Tuesday. Please remember as you go about your Mardi Gras celebrations to keep Ripley's Mom and Succotash in you prayers as RM is having her second knee replacement today and Succotash will be having glaucoma surgery tomorrow.