It appears that is exactly what happened to the leftists attempting to burn the country down and blame the right for the fires. The State Capital Rallies – well attended by military, police (yes, the same police that the left wanted to defund last summer) and BLM/Antifa wasn't able to lure many of their arch-enemies (us) into their trap this time. Let's check our a random sample from fly-over country.
Michigan: Michigan State Police, FBI, National Guard prepare for armed protests, potential violence in Lansing (small crowd as Gretchen has forbidden large ones)
Michigan State Police patrol the perimeter of the State Capitol in Lansing
Colorado: Hundreds gather for pro-Trump rally outside state Capitol (hundreds!)
Denver, Colorado state capital – kids playing on the lawn
Minnesota: Amid huge police presence, weekend rallies at state Capitol were tiny and peaceful (darn!)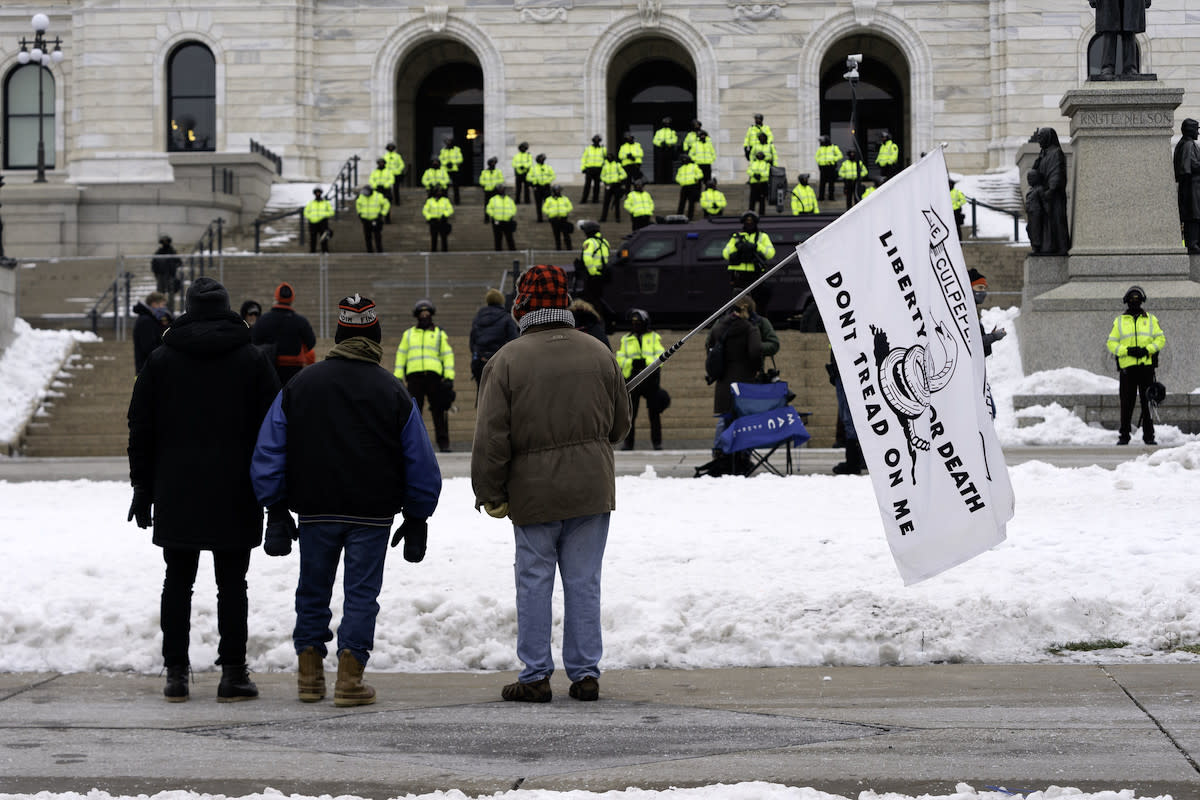 A lot of police presence though.
And so it went, all around the country, much to the chagrin of MSM.
Gee, you don't imagine that this was all a ginned up threat do you? You don't think the FBI would be involved in leaks to the media that hint at an insurrection or something…do you? Manufacturing political narratives for their own political reasons – that's not what the FBI does…or is it?
I mean, come on man, that's not the way it works…is it? I mean, Deep State isn't a real thing…is it?
And no matter what you read Deep State was not involved in my fatal mugging
In Memoriam: Mars Sullivan
Unfortunately, I have some sad news to report. One of our long time MOTI, a daily reader and regular commenter, Mars Sullivan, passed away last month. Her husband, Kevin, was kind enough to let me know why we've missed her comments.

Mars, real name Myra but nicknamed "Mars" by her dad as a young girl, was only 67 and according to Kevin she had known something was wrong for the past year but had said nothing to anyone. She became quite ill at the end of November, was admitted to the hospital and passed away a week later of advanced liver cancer. Her husband was at her side.

Mars was a retired landscaper and for the last 3 years she and Kevin had split their time between Fort Wayne and their home in Florida. She will be greatly missed by the MOTI.

While not a commenter himself, Kevin is a regular reader as well. Please join me in offering him our sincere sympathy for the loss of his dear wife of 45 years.
"We may write our names in Albums,
We may trace them in the sand,
We may chisel them in marble,
With a firm and skillful hand.
But the pages are soon sullied,
Soon each name will fade away,
Every monument will crumble,
Like all earthly hopes decay.
But dear friend there is an album,
Full of leaves of snowy white,
Where no name is ever tarnished,
But forever, pure and bright.
It's in The Book of Life, God's album,
May your name be penned with care,
And may all who here have written,
Write their names forever there."