All I have time for today is an update on the 2019 Key Lime Pie situation.
The bad news: the bakery department at my local Costco confirmed they do not have them this year and they will not be getting them either. This is a real blow - they were absolutely the best key lime pie anywhere, ever.
They were better than the ones you make yourself. They had the perfect crust (not dry and crummy) perfectly balanced filling: creamy, sweet-tart, fresh. And did I mention huge? You could cut them into at least 12 pieces and freeze them to be parceled out over the entire summer. But alas, no more.  So I now officially hate Costco.
After getting this bad news on Thursday I happened to be Sam's Club today for something else and spotted the key lime pie they sell. Half the size for more than half the price of the now defunct Costco version. I could tell from the color and texture of the lavish dollops of white cream on top that not only was it not real whipped cream but it wasn't real anything. But I thought, what the heck, I can take it off. And I noticed that it came with a crummy looking graham cracker crust, but I figured I could just eat the delicious custard and leave the crust behind. I know: even a moron would have waved themselves off at this point but not me. I bought it anyway.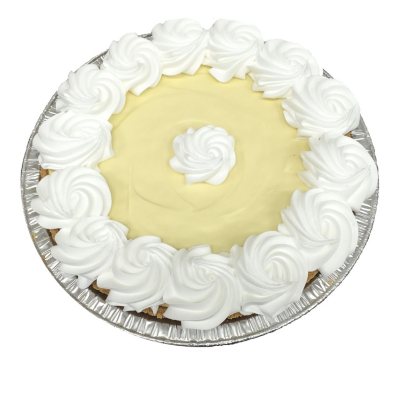 Tip: it the "whipped cream" looks like shaving cream step away from the pie
As they say "the proof is in the pudding" and it was. It was beyond awful. Acrid, nasty lime-ish slime that, trust me, you wouldn't even feed to the dog. Even Raj wouldn't eat it and he'll normally eat anything with sugar in it. So consider yourself warned if you are a member of both clubs and think the bakery products are interchangeable: they are not. Save yourself $7 and leave that artificially flavored, colored gel in a pie tin sitting in the case. So now I hate Sam's Club too. My shopping choices are growing more limited by the day.
Anyway, we have to leave at 5:15 am for Raj's knee surgery (repair of double meniscus tear that seems to be getting worse) at 6:15 so that's all the whining I have time for this morning. So why don't you all carry on without me, it is Monday Moanin' after all. And if you can't think of something to moan about make something up.
The surgery should go smoothly but your prayers are always most welcome.