Santa came to my house yesterday, with a sleigh full of gifts.
Yet more gifts for MOTUS, from the MOTI. After you already gave me such a glorious Christmas bouquet (which still looked perfect for our guests yesterday)!
First up, sweets and savories of my picking from Zingerman's – which had lines to get in the store long before anyone ever heard of COVID 19.
If you've ever tasted their old style breads you would understand.
But that's only the beginning: they have a whole line of homemade bakery products, imported and house made cheese, deli selections…and more.
House made cheese as well as
from around the world.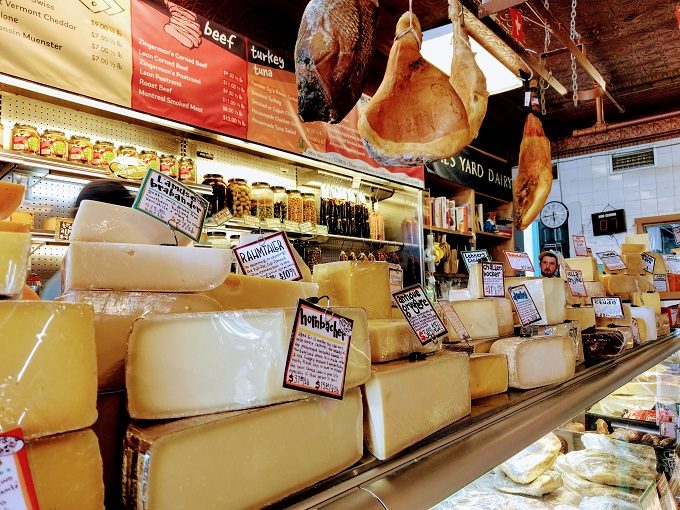 All so good that one simply ignores Ann Arbor's  - and Zingerman's - annoyingly leftist inclination in order to enjoy it all.  Their Paesano loaf alone would be enough to convert you to their ideological viewpoint. If, that is, you had not been educated well enough to know that if we adopted their commie ways you would be standing in line much, much longer than the longest wait at Zingerman's for a far, far more inferior loaf of bread. 
But(t) still, that's not it!! There are still more gifts in MOTUS' email box. The next, a most, most generous gift from my favorite art supply house, Dick Blick's. My painting has languished over the years due to, well, other stuff, but I've sworn to spend this winter here at home base while Raj's knees (hopefully both) heal, re-immersing myself. Since most of my neglected oils have dried up over time they all need replacing,
and to be honest I've had my eye on a pochhade box for quite awhile now.
I'm looking forward to a bit of plein air painting when spring/summer finally returns to these environs.
So thank you my little angels, for such thoughtful gifts which will delight me throughout the year come what may.  And if you accept my humble thanks for your splendiferous bag of Christmas gifts I do hereby swear to never, ever call any of you minxes again (unless of course you deserve it).
Now get out there and get that tree decorated if you haven't already.