Today I'm going to 'mindfully' ignore Hillary's ongoing whining, whimpering and general lamentation. Today I choose life over the Pale Death.
And to that end I'm going in search of my current horticultural obsession, the lovely but elusive Origanum 'Kent Beauty.' I first discovered this flowering herb about 10 years ago – my how time flies! – and most years have had to mail order the plants at a ridiculous price. Recently I've found them sporadically at one of 3 nurseries around here, but you have to get there at just the right time because they disappear immediately.
This is why I'm obsessed: flowering oregano is a plant that starts out very pale and delicate looking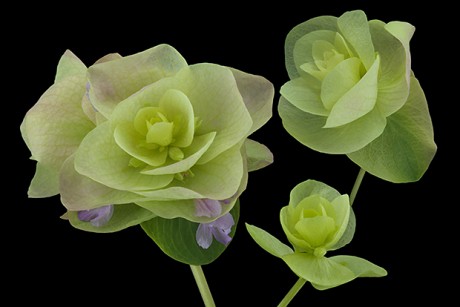 then slowly develops into stunning blossoms with purple bracts
on a vine-like stem
until such time as they grow into densely textured mounds of drooping hop-like flowers in soft tones of sage green and dusty pink.
They are technically perennials, but not reliably winter hardy in Michigan so I need to search them out each year (their seeds are sterile) to populate my planters.
My deck , several years ago, overflowing with flowering oregano, coleus, red cordyline, baby petunias and Superbena verbena.
You can use these beauties haphazardly in cut flower arrangements and still end up with a pretty, fragrant nosegay.
This lovely needs very little attention, it's relatively drought tolerant, plays well with others, and gives you cascades of hop-like flowers that start out green, change to pink and finally to antique rose late in the season. When fall comes on - if you haven't had too much rain or overwatered them - the flowers will dry on the plant and turn a vibrant deep rose color that lasts for another month or so, like certain varieties of hydrangea.
A newer variety: Origanum 'Kirigami'
You can pick them at this point and bring them inside where they will dry beautifully, all by themselves. They are unapologetic show-offs. Definitely worthy of a search. 
You can go on a mission today too: go find the flower of your dreams. Or, like Hillary, you can stay hermetically sealed in your alternate universe bubble where the only choice is Pale Death.
Mountain Brewery's Pale Death Belgian Style Imperial IPA: "tropical, dank, forested aromas brought on by a mountain of Mosaic hops, the rider was Death, and hell followed him."

 Definitely Hillary's kind of drink.